New hydrogen infrastructure connects Power-to-X and green industry
Evida, Vestjyllands Andel and GreenLab are now building the first piped hydrogen infrastructure in a test area that will connect the GreenHyScale project's hydrogen production and consumption at Vestjyllands Andel's "Starfish Factory" at GreenLab's industrial park in Skive. It will be a test stretch of 0.5 km, and the first hydrogen is expected to flow through the pipe in 2023.
Establishing and operating the hydrogen infrastructure will provide new knowledge to both hydrogen producers, consumers and infrastructure owners and create new value chains for Power-to-X. The pipeline thus becomes a central preparatory step towards the rollout of hydrogen infrastructure on a larger scale in Denmark. 

Through the ClusterNortH2 alliance, GreenLab and Evida have had a close collaboration, which now leads to Evida's first piped hydrogen infrastructure, HySymbiosisNet. By starting this test section, the project parties are taking an important step towards the possible realization of a Danish hydrogen infrastructure, which is also a part of the preparatory work towards the final distribution of roles and responsibilities for the future hydrogen infrastructure falling into place. 

"We look forward to moving away from desk studies and taking the next step in the rapid development of the Danish PtX and hydrogen sector. This will be Evida's first piped hydrogen infrastructure, which will help us to be ready to support the future needs of hydrogen transport," says Kim Søgård Bering Kristensen, Evida's CEO.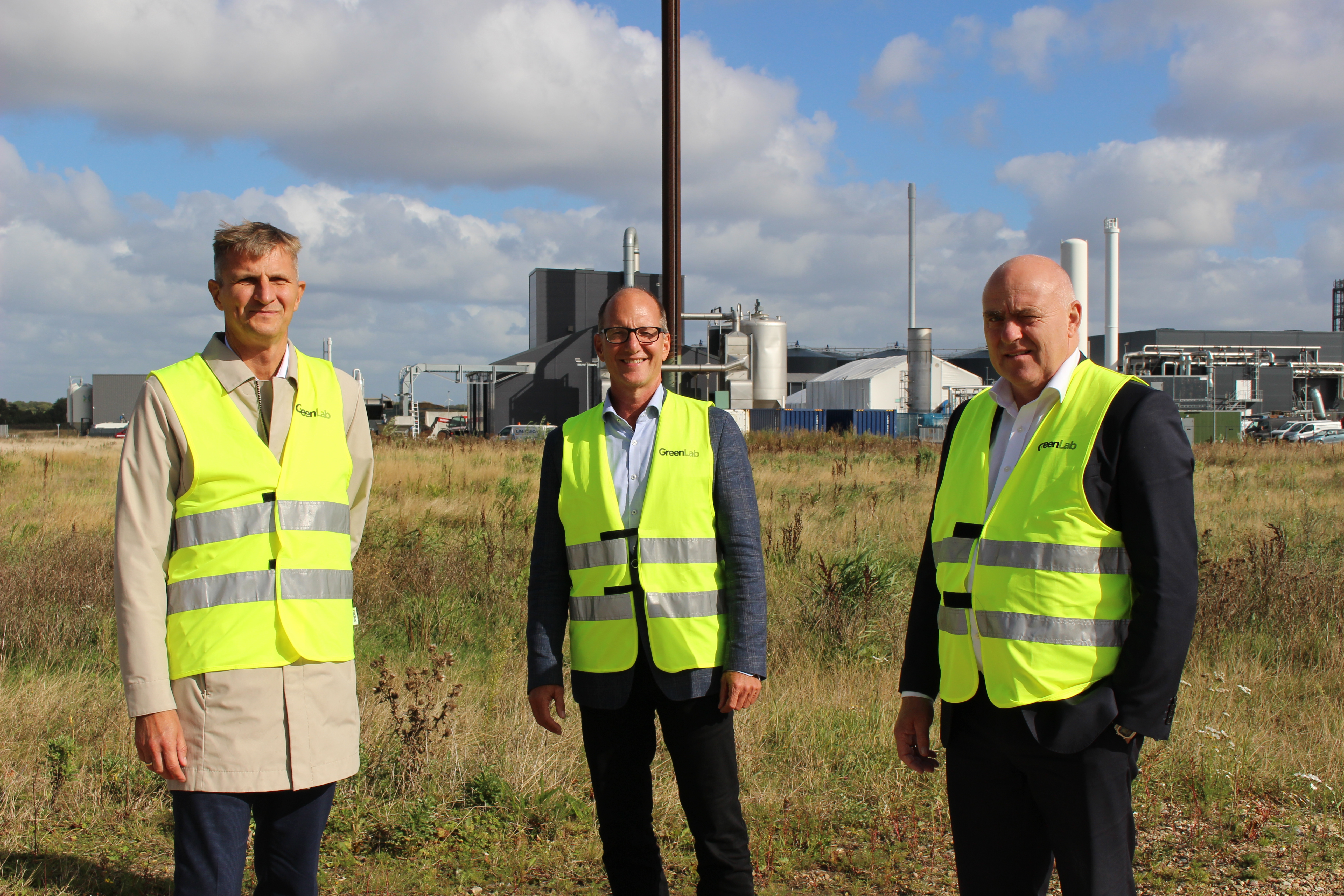 From left:  Kim Søgård Bering Kristensen, CEO, Evida. Christopher Sorensen, CEO, GreenLab. Steen Bitsch, CEO, Vestjyllands Andel. 
Hydrogen from Power-to-X
The pipeline will initially connect the Power-to-X project GreenHyScale's hydrogen production facility in GreenLab and Vestjyllands Andel's "Starfish Factory", which can use the hydrogen as an alternative to natural gas and thereby displace fossil fuels through indirect electrification. In the long term, the stretch can be extended when the partners at GreenLab have a hydrogen need. It will provide important knowledge that can be utilized if a regional hydrogen infrastructure between Mariager Fjord and Skive is to be commissioned in 2026, which the ClusterNortH2 alliance has set as a goal. 
"We are proud that we, together with the project partners, are taking the lead in establishing a Power-to-X powered hydrogen infrastructure in Denmark. In addition, it is important for us to create a circular economy in GreenLab, where PtX is staged in a cluster model across sectors. This way, we can support the partners in our green industrial park even better. It also enables our partners to adapt the hydrogen supply depending on their operations and production. In the long term, we look forward to being connected to a shared hydrogen infrastructure in central and northern Jutland, where we can contribute hydrogen from our 100 MW Power-to-X GreenHyScale project," says Christopher Sorensen, CEO, GreenLab. 
Great potential 
At the so-called "Starfish Factory", which has been part of GreenLab since 2018, Vestjyllands Andel processes marine raw materials into locally produced protein. And the bulk goods company sees great potential in using hydrogen as a green energy alternative for some of the industrial processes.  
- The more alternative supply lines we have in our energy consumption, the more risk we take out of production. We are delighted to be part of the HySymbiosisNet project because it is also in line with Vesjyllands Andel's ambitions to deliver green solutions to our members and Danish agriculture in general. Furthermore, our commitment to the project is a natural extension of the decision to be part of GreenLab. This is hopefully the starting point for establishing even more circular solutions across the industrial park, says Steen Bitsch, CEO of Vestjyllands Andel.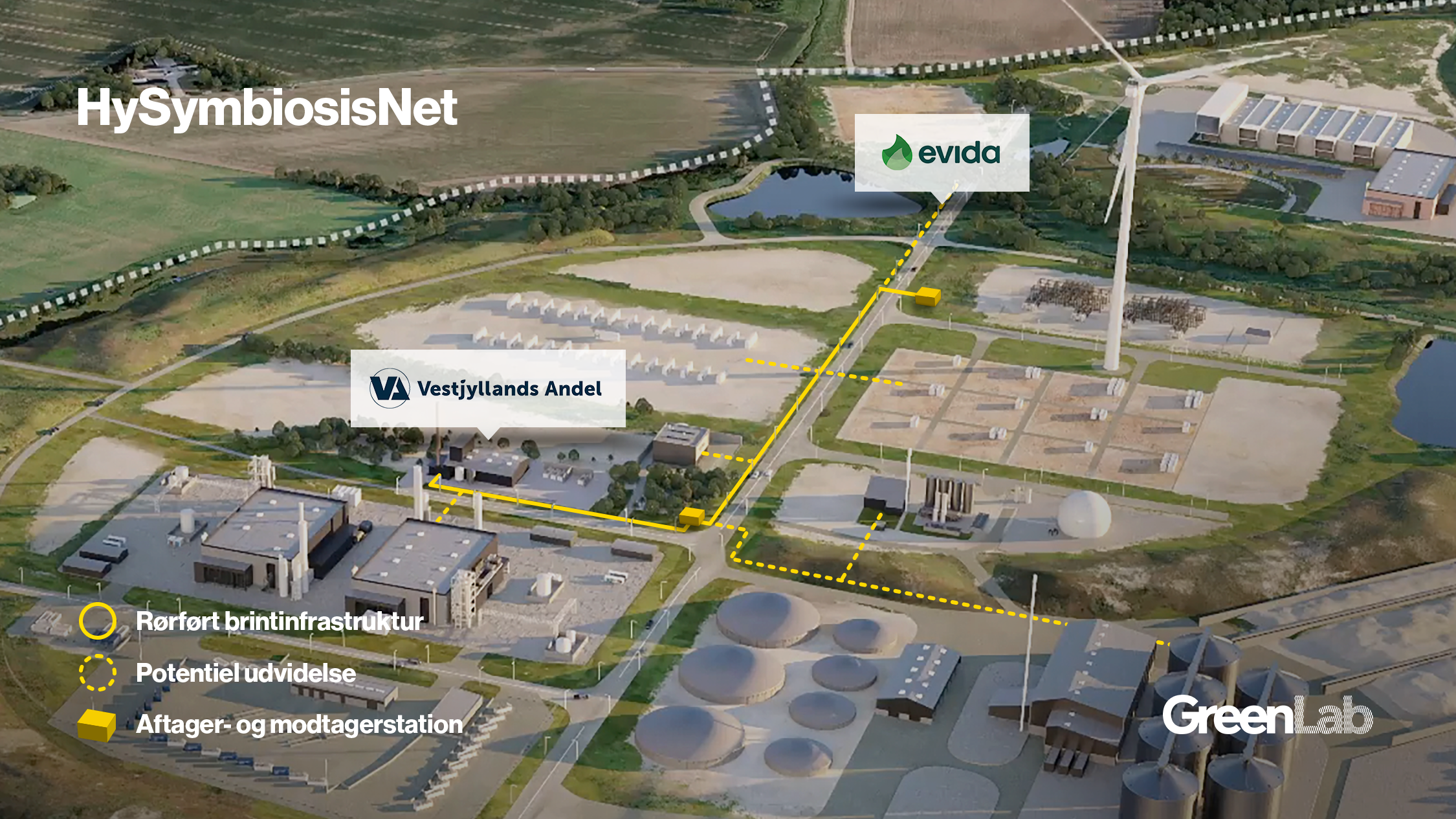 Caption: Graphic illustration of the hydrogen pipeline at GreenLab in Skive 

The ClusterNortH2 alliance previously published a report which concluded that hydrogen can be transported around a 170 km hydrogen network for DKK 1.3-2/kg. And in a new status report, ClusterNortH2's parties - Gas Storage Denmark, Eurowind, GreenLab and Evida - have analyzed each other's timelines, which indicate that it will be possible to commission the first regional section of 100 km in 2026 between Mariager Fjord and Skive. 

For further information please contact:
GreenLab  
Linda Fejerskov  
Communications Lead 
life@greenlab.dk  
+45 29 81 17 22  
Evida  
Mia Josiassen   
Head of Communication and Secretariat
miajo@evida.dk  
+45 25 19 40 64  
Vestjyllands Andel 
Brian Bøgh Kristensen 
Head of Communication and Marketing
bbk@vja.dk 
+45 51 96 58 57
Read more about hydrogen infrastructure: ClusterNortH2 Project report