News from the board
Following Norlys' significant investment at the end of 2022, the ownership in GreenLab has changed. This also means changes in GreenLab's board of directors, where Norlys' EVP and Group CFO, Gert Vinther Jørgensen, steps in as new chairman, and a number of board members say goodbye after putting in a great deal of effort in GreenLab's formative years.
The new year means the beginning of a new phase for GreenLab, as the main owner is now the energy company Norlys, as opposed to previously when ownership was equally divided between Skive Municipality, Spar Vest Fonden, Norlys, and Klimafonden Skive as the founding minority owner. GreenLab is thus no longer in a start-up phase but will focus more on putting green technologies into operation, developing new energy systems, and getting even more companies to join the industrial park. At the same time, the company is being prepared for a historic global journey, where the learnings from Skive can be implemented elsewhere in Denmark and in the world – this all requires new competencies in GreenLab.
New chairman of the board
The new ownership, therefore, also entails a number of replacements and rearrangements in GreenLab's board of directors. Thus, the position of chairman changes hands, and Stig P. Christensen, who has been involved from the start, leaves the title to Norlys' EVP and Group CFO, Gert Vinther Jørgensen, who joined the board as a member recently.
"It has been a great honour to be involved with GreenLab since the very beginning – starting in Klimafonden and then with the establishment of GreenLab Skive A/S – and to see our idea grow strong and viable", says outgoing chairman, Stig P. Christensen, and continues, "We found exactly the right time to build a green industrial park, and I am very proud of the community we have succeeded in creating around the SymbiosisNet and the local business development that has followed."
The new chairman, Gert Vinther Jørgensen, brings with him a deep insight into the energy industry and broad experience from the energy and financial sectors. He looks forward to making a difference in GreenLab and says, "In GreenLab, you can see the energy system of the future being built right before your eyes – here, Power-to-X and sector coupling are not theory, but reality. It fits very well with Norlys' focus on the green transition, and I look forward to contributing my experience to GreenLab's continued development".
New deputy chairman and board member
In addition to the change of chairman, two new members will join the board; Anders Vedel, who will become deputy chairman, and Robbert Nickolaj Stecher. Anders Vedel is Chief Scientific Advisor to the management and board of Vestas and known as an institution in the wind industry and the green energy sector, and Robbert Nickolaj Stecher is Director of strategy and business development in Norlys.
Anders Vedel says, "The wind turbine industry was Denmark's first major showcase for green energy, and GreenLab is ready to lift that legacy and take the next step with technologies and energy systems that can move the green transition further and create a new export success. I look forward to using my experience to help with just that".
GreenLab also says goodbye to four board members.
First of all, a big thank you to the outgoing deputy chairman, Toke Foss, who is the owner and chairman of the board of the Skive-based technology company DEIF. Toke Foss formed the company's first board together with Stig P. Christensen and Holger Blok, and, together with the other board members, contributed significantly to GreenLab's development and worked hard to make the idea of a green and circular industrial park a reality. The board would also like to thank outgoing members Holger Blok, former Director of Eniig and representative of Norlys, Kim Jepsen, 2nd deputy mayor of Skive, and Bente Østergaard, also appointed by Skive Municipality, who left the board earlier this year.
Stig P. Christensen will continue in the new year as an ordinary member of the board on behalf of Klimafonden Skive, and in addition Anne Zachariassen, COO of Aarhus Havn, Peter Højsgaard, Director of Spar Vest Fonden, and Skive Municipality's mayor, Peder C. Kirkegaard, will continue as members.
The new board meets for the first time at the end of January, and the company starts the new year by inaugurating a new operations building that will house GreenLab's first hydrogen module, which is expected to be delivered during the first half of the year.
GreenLab's board photographed in December, 2022 in connection with the signing ceremony for the new ownership agreement.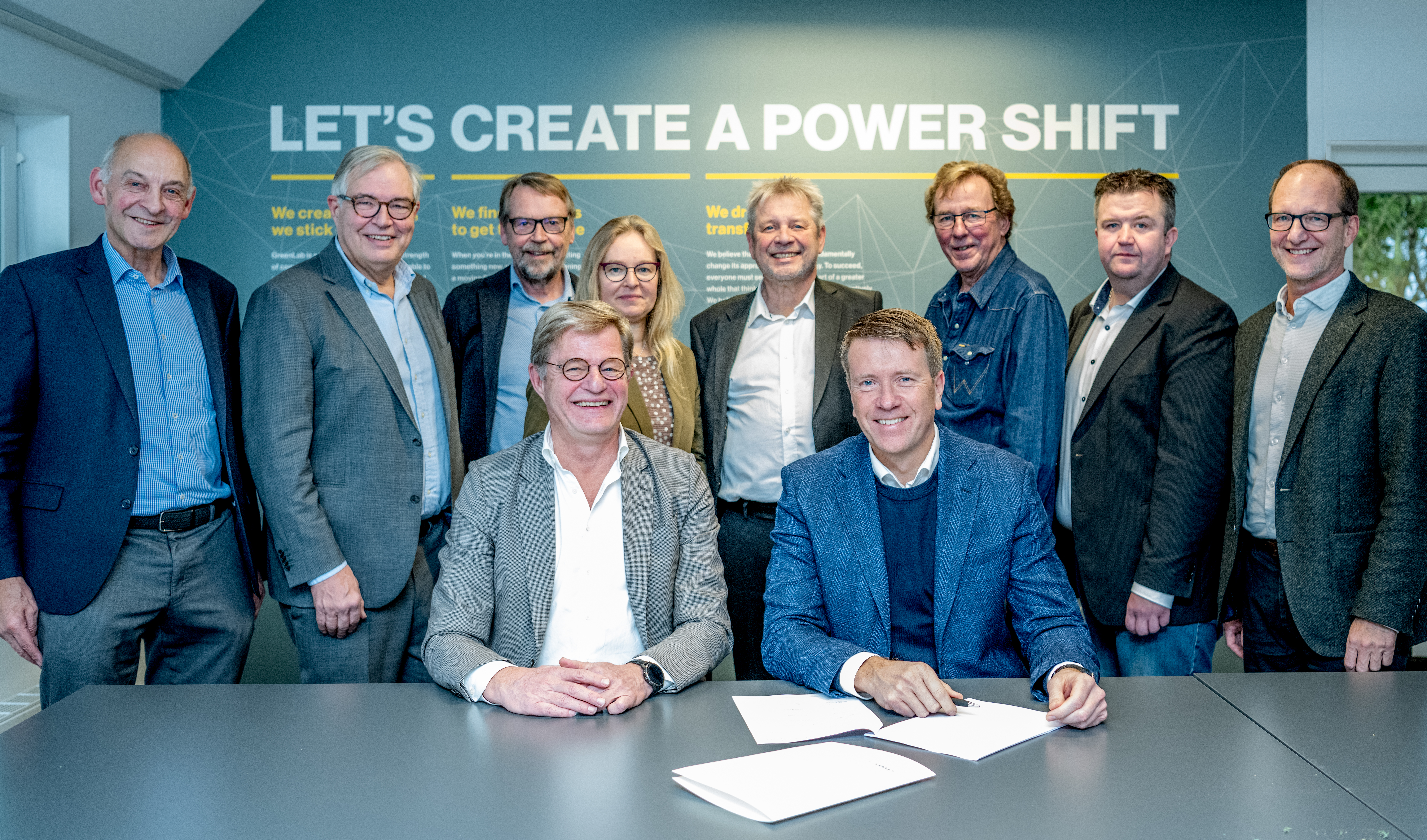 From left to right: Mayor, Peder C. Kirkegaard, Toke Foss, Holger Blok, Anne Zachariasen, Lars Bo Jensen, Peter Højsgaard, Kim Jepsen, Christopher Sorensen, Stig P. Christensen, and bottom right, new chairman of the board, Gert Vinther Jørgensen.